New Workspace for Pro AV
Article by Louise DeVos | December 16, 2019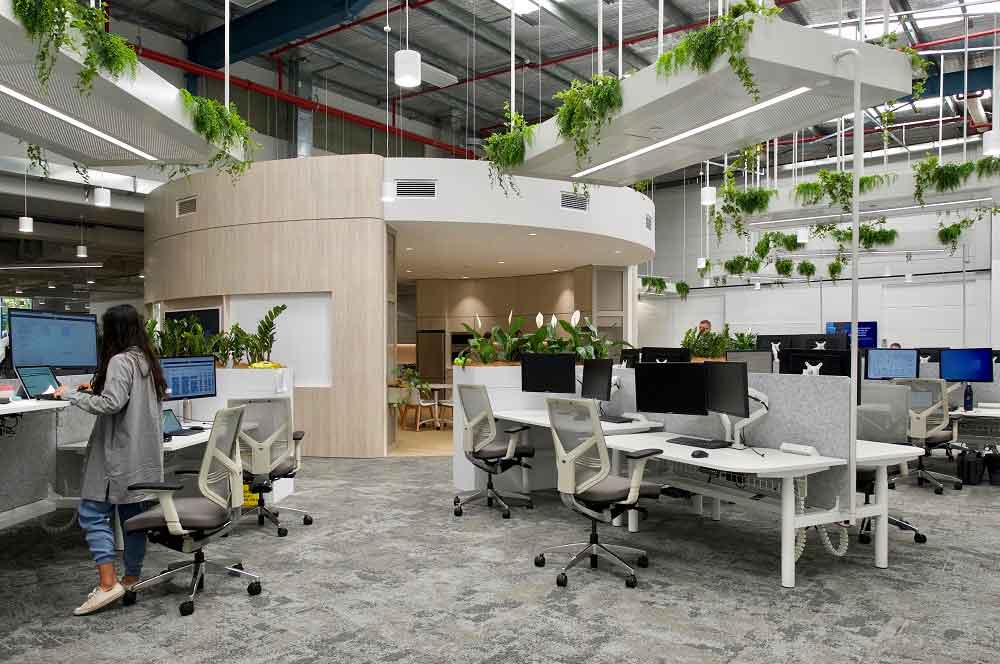 Working with client side PM firm Linked PM and their clients Audio Visual company Pro AV and Profile Systems, JDV Projects looked to create a joint workspace and showroom for their growing teams in a new space located in Frenchs Forest, Sydney.
The main brief and objectives were to move away from their current disjointed workspace areas and consolidate their teams within an open and collaborate environment.
The result is a light and open workspace, incorporating an industrial look and feel throughout. High ceilings and exposed services give greater depth to the workspace environment.
Each of the work zones have been positioned around the central breakout hub, designed to create a common area for the two teams and encourage familiarity between coworkers. This 'townhall' space is fully enabled with the latest in AV technology, showcasing whiteboards and screens that can be used by the teams for get-togethers, socializing as well as brain-storming sessions.
The use of smart zoning continues throughout the 1,150sqm space with the creation of a variety of workspace settings for singular or group use. AV enabled banquette seating for informal teamwork, quiet work areas for concentrated work as well as more formal private meeting rooms. The team are able to choose the work-setting they need for their task at hand, enabling team productivity, collaboration and communication.
Each of the key meeting rooms have been specifically designed to showcase separate AV capabilities based on a client's budget and requirements and the use of wire mesh ceilings allows the client to understand the services and wiring used to connect each of the AV products. The main boardroom also features acoustic fabric paneling and LED feature strip lighting.
An impressive feature of the workspace is the powder-coated aluminum planter boxes suspended 3 meters above the work areas. The cascading plants soften the industrial feel, whilst providing a conduit for the infrastructure and services such as power and data to the workstations from above.
The project included a new warehouse facility with a new mezzanine for great storage and a fully functional AV workshop.
Published
December 16, 2019