Northern Beaches Womans Shelter
Article by Louise DeVos | November 20, 2019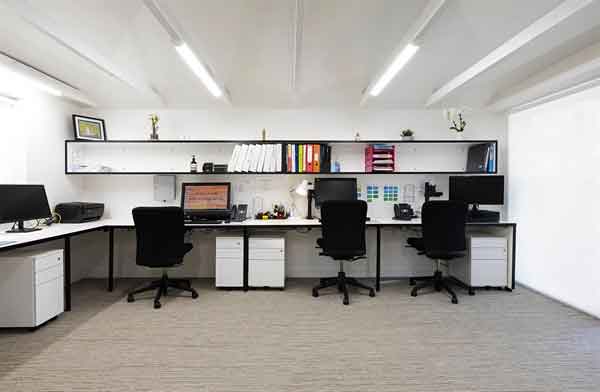 "The Northern Beaches Women's Shelter (NBWS) was established by our community, it exists to serve our community, it serves because of our community."
In July this year, the team at JDV Projects were given an opportunity to create a dedicated workspace for the committed team of volunteers and staff at the Northern Beaches Women's Shelter.
Partnering with a local firm Careel Designs, the combined team - who offered all work pro bono - went about creating a new space for the administration team. The conversion of a previously disused garage freed up desperately needed crisis accommodation for women in danger of domestic violence, mental health issues and financial hardship and homelessness.
The small team now have a bright and functional space away from the residential accommodation. The disused garage has been divided into two areas with the use of opaque glass sliding doors; on one side, a modern workspace with in-built desking and storage, and on the other, an informal lounge area and tea point where private meetings with the residents and counselling sessions can take place.
We know that hardship and homelessness doesn't discriminate; it can happen to anyone. Operating as a non-profit, non-government, charitable organisation whose services, are sadly, increasing in demand, it was imperative that this project could take place with no cost to the shelter. And with this in mind, JDV Projects gave their full support by reaching out to their dedicated subcontractors and friends to generously donate supplies and labour to this worthy and much needed cause.
The response was overwhelming and truly embodied the strong community spirit and support that lies within the construction industry.
"What a difference the office makes. It is wonderfully bright and spacious and away from the residents' private space. The improved quality that brings to the residents and the staff experience at the Shelter is enormous. For so long this has been a dream of not only Jacqui our Shelter Manager, but the staff and board as well. It was your effort, connections and your expertise that made our dreams come true. We are indebted to you."
Kim Backhouse, Acting Business & Communications Manager
Thanks and gratitude are offered to the following companies for their assistance and donations:
AirTech Air Conditioning
A Safeway Group
BD Building Management
Billi Water
Bunnings Warehouse
Cavan Glass
Careel Designs
City Commercial Painting
CMS Electracom
DJM Wood Products
Hardware & General
Haworth
Interfar Custom Furniture
JDV Projects
Kennards Hire
Kompass Group
Master Carpets & Vinyls
Network Building Supplies/Network Architecture
NIS Graphics & Signs
Northern Beaches Consulting Engineers
PM Electric
Private Certifiers Australia
Roseville Plumbing
Sand & Stone Landscapes
Select Workplace Solutions
Temple & Webster
Thinking Works
Tom Kennedy Interiors
Tycen Demolitions
Published
November 20, 2019