Positive business decisions for your workspace that shouldn't go on hold
Article by Louise DeVos | April 15, 2020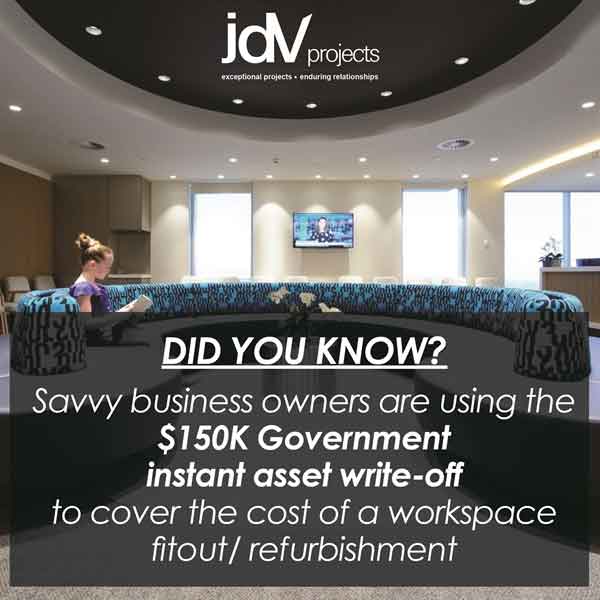 Smart businesses are thinking about the Post-COVID 19 environment.
Its apparent that Australia has and is managing the COVID 19 crisis relatively well by worldwide comparison, testament to tough decisions and everyone doing their bit.
As a business owner or decision maker, in times of crisis management, it's tempting to do nothing and spend even less. However, in speaking with many of our valued clients and we are starting to see the opposite.
Here's what we are seeing and witnessing:
Savvy and forward thinking businesses are planning for the return to work by their workforce in a Post-Coronavirus environment.
Now is in fact is the ideal time to make those planned changes to a workspace to ensure that "Thank God its Monday" feeling is alive and well when the team returns.
From our conversations with many businesses, we are firming to the opinion that staff and employees will never be so keen to get back to work when permitted.
Working from home has traditionally been a temporary or infrequent option and a means of injecting flexibility into a workforce, however a permanent working from home arrangement is certainly uncovering the short-comings and the novelty of "working from home" is wearing off-people are eager to return to work and the work environment.
Businesses are recognizing the benefit of an efficient and inspiring workspace - whilst technology has been a saviour during this time, the additional benefits that an inspiring team workplace environment delivers, has been well and truly discovered.
Construction and fitout works are still permitted and the team at JDV Projects are operating and working flat-out. We are assisting our clients to take advantage this unprecedented period in a positive manner to prepare their business premises for the future.
Businesses are currently experiencing their own unique challenges and working out what changes they may need to make moving forward is starting to
It is a rare situation to see most business premises relatively quiet and empty – so what an opportunity!
Here's some of the things we are up to and can assist with
Assessing workspace footprint requirements.
considering subdivisions and sub-leasing. (Always check your lease regarding your rights to sublease)
Churn works including - Refurbishing, re-arrangement or refreshing the workspace environment
Adjusting or changing work settings to provide greater flexibility
Consolidating multiple locations into a single location
Energy efficiency initiatives, including lighting upgrades, new lighting controls and zoning,
Technology upgrades including Audio Visual installations